ACTIVITIES
---

 Kitesurfing
There are plenty of opportunity for activities around Aa strand camping. We have the ocean right next to us where it's possible to kitesurfing, windsurfing or scuba diving.
The ocean is suited for both beginners and professionel if you wanna challenge the ocean.
---

Kayak / Rowing
When the ocean is nice and calm or a bit more fresh. Kayaking is a great opportunity to get out there and have some fun. you can kayak along the coast to the lighthouse that lies a few miles up the coast.
---

 Biking and Hiking
The picture to the left is seen from the beach at Aa Strand, and in the background is "Feddet" that is a 70 hectare large recreational beach area.
There are many small hiking and biking trails you can do round Aa Strand Camping so bring your bike or proper shoes to experience the stunning nature.
---

Fishing
Aa Strand camping has one of Funens best fishing spots and short distance to the water from the campsite.
So if you want to catch a sea trout, then there is Sønderby Klint further up  "feddet". Sønderby Klint is one of our greatest areas here in Funen for fishing.  The biggest trout caught at Aa Strand Camping was at 9,5 kilos
---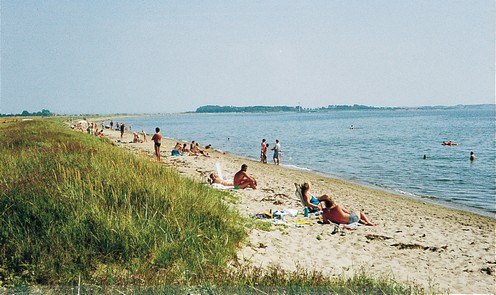 The beach
The picture to the left is the beach just 50 meter from the Campsite. It is highly recommended to take a walk or run along the beach or if you wanna cool down and go for a swim the ocean is very nice and refreshing.
At the campsite we provide the opportunity to get something cold to drink or an ice cream at our reception shop.